Posts
https://hebrewpublic.org/wp-content/uploads/2017/03/hebrew-public-logo-136.jpg
0
0
Elisabeth Castera
https://hebrewpublic.org/wp-content/uploads/2017/03/hebrew-public-logo-136.jpg
Elisabeth Castera
2019-12-09 15:42:14
2020-03-19 19:21:24
Teacher Spotlight — Morah Orna!
In the 2018-2019 school year, our New York City campuses have received technology equipment worth over $600,000. The competitive grants received from local government officials will help prepare students for the future in today's digital economy.
The support from Brooklyn Borough President — Eric Adams, Manhattan Borough President — Gale Brewer, and Council Member — Alan Maisel allows staff from Hebrew Language Academy Charter School (HLA), Hebrew Language Academy and Harlem Hebrew Language Academy Charter School to upgrade technology and infrastructure, make learning more fun, and ensure that students reach their academic potential.
"Our students are looking forward to improving their computer skills, such as computer coding and 3D printing," says Sasha Kogan, Community Relations and Alumni Coordinator at HLA. "It's really great to see the enthusiasm on their faces as they learn new digital skills. The kids have been using the laptops to access eLearning platforms, such as Compass, ThinkCerca, and keyboarding Without Tears — each program provides a personalized learning path for our students."
Research has found that when schools provide students with laptops for use in the classroom and at home, learning improved in a number of subjects, including science, math, and English. "Students received more feedback on their writing, edited and revised their papers more often, drew on a wider range of resources to write, and published or shared their work with others more often," the study concludes.
"These funds have allowed us to provide technology that we could not afford before. We are truly grateful to our local officials for the generous support of Hebrew Public students in Brooklyn and in Harlem," says Valerie Khaytina, Chief External Officer of Hebrew Public, the grants will help support the network's commitment of providing students with a high-quality education and equip them with 21st-century skills."
We are grateful for the support we've received from Eric Adams, Gale Brewer, and Alan Maisel for investing in our schools and believing in our mission.
https://hebrewpublic.org/wp-content/uploads/2017/03/hebrew-public-logo-136.jpg
0
0
Elisabeth Castera
https://hebrewpublic.org/wp-content/uploads/2017/03/hebrew-public-logo-136.jpg
Elisabeth Castera
2019-01-03 21:18:44
2020-03-19 19:21:24
Investing in Today's Technology for Tomorrow's Future
One summer morning in August, a group of diverse, eager and excited educators gathered together in one room for their first network-wide professional development meeting. The meeting took place in New York City's Hunter College. As more staff members arrived, you could hear many conversations – curiosity about what to expect, introductions with new staff members, excitement about a new school year, and the chance for a fresh start; began to fill the room.  
Joining us, we had our first cohort of Arbel Fellowship teachers from Israel – (Arbel Fellowship is a program that provides an opportunity for Israeli teachers to teach Hebrew in our schools for two years), we also had our director of Social and Emotional Learning (a new role created to focus on the launch of our social and emotional learning initiatives), and Reverend Linda Tarry-Chard – a Board Member of Harlem Hebrew Language Academy and an Ordained Minister, just to name a few.  The group learned about Hebrew in our curriculum, initiatives towards Social and Emotional Learning (SEL) and what our goals were as a network. SEL is a hot topic in schools and is central to Hebrew Public's mission to prepare students from all backgrounds to become global citizens.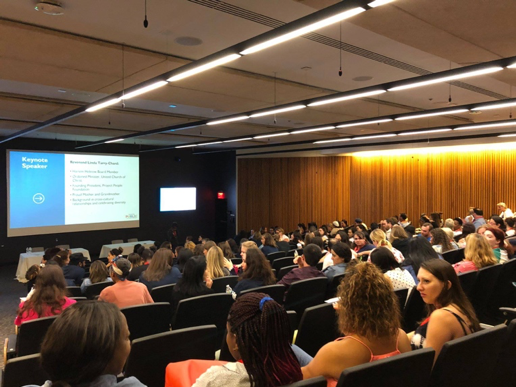 During our meeting, Reverend Linda asked the group to remember a time when we first crossed paths with someone from a different socioeconomic class, at that moment the tables were turned, it was our time to self-reflect. As teachers, these are the types of questions we generally ask our students, not necessarily taking the time to ask ourselves these same questions. From this exercise, we pressed the rewind button to a time when we were our students' age, a time where life seemed simpler, or at least we thought it was. Some stories shared were experiences from traveling to a different country and seeing other children who were less fortunate than they were – asking for food or money, or interacting with someone from a different background, who spoke a different language. This exercise made us think about diversity and when we first acknowledged it in our lives. And for most of us, the answer is, it began as children. It was an excellent exercise as it made educators and teachers to analyze the questions, we are asking our students. It starts in our schools and with our teachers.
When educators practice SEL skills in the classroom, studies have shown it to have a positive impact on academics. Successful, evidence-based SEL starts with adults, who practice and purposefully cultivate their own competencies first, then expand SEL practices to reach students. When adults try these practices for themselves, it builds self-efficacy and their own SEL competencies. Citizenship means belonging and welcoming rituals help all members of the community feel a sense of belonging.
Since our meeting, welcoming rituals have been implemented in our schools. Staff members greet children and parents at the door to create a sense of belonging. By doing so, families feel valued as a member of the community. We strongly believe that when you combine a diverse-by-design community and SEL skills in a school, extraordinary things can happen. Despite living in a time of inequality and racial economic disparities, sitting in Hunter College that morning in a room with diverse educators and leaders, there was a feeling of hope – a feeling that our students will continue to reach academic excellence and become successful global citizens.
Thank you to all our wonderful teachers, staff and leadership teams that joined, participated and showed their support at Hebrew Public's first PD meeting. Here's to a new school year, a willingness to understand and accept one another's differences and lead by example for our students.
"Children have never been very good at listening to their elders, but they have never failed to imitate them."  – James A. Baldwin.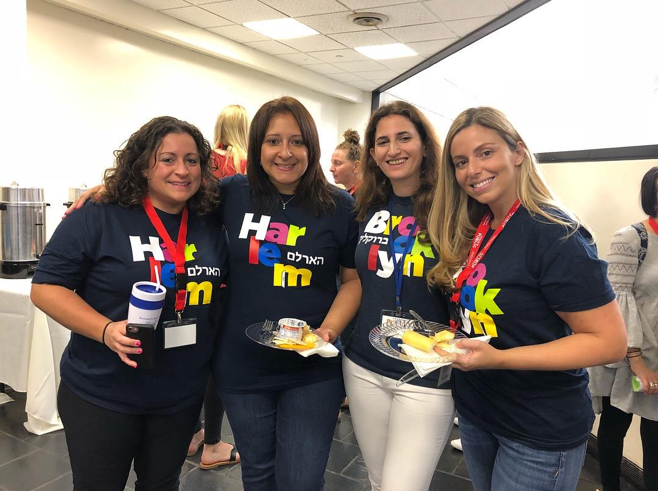 By Elisabeth Castera
https://hebrewpublic.org/wp-content/uploads/2017/03/hebrew-public-logo-136.jpg
0
0
Elisabeth Castera
https://hebrewpublic.org/wp-content/uploads/2017/03/hebrew-public-logo-136.jpg
Elisabeth Castera
2018-10-23 13:31:34
2020-03-19 19:21:25
The Benefits of SEL and Diverse-by-Design Charter Schools