8:00-8:30 AM  – Breakfast and Table Top Play
Table top play just refers to what kids will do once they've finished breakfast and are waiting for the rest of their classmates to arrive and for the day to begin. For example, if doors open at 8am but Morning Meeting time  doesn't begin until 8:30am, these are toys teachers will put out to keep kids busy and engaged. Table top activities can include puzzles, magnatiles, duplos, coloring, reading etc.
8:30-9:00 AM – Morning Meeting/Center's Meeting
Children are welcomed by peers and teachers. Includes community-building, an advanced organizer for the day, and one academic skill.
9:00-10:00 AM – Centers
Centers Meeting highlights available Centers, transitions children to free-choice Centers, and draws attention to prosocial behavior or pre-corrections.
11:00-11:25 AM – Interactive Read Aloud
Read Alouds happen twice each day. Morning Read Alouds focus on math and social-emotional books. Afternoon Read Alouds focus on narrative fiction and nonfiction books.
11:25-11:45 AM – Journal Time
Dedicated time for children to use written expression. This component includes modeling, conferencing, and Author's Chair.
1:30-1:50 PM – Afternoon Meeting
1:50-2:50 PM – Centers
Centers are free-choice learning areas focused on unit themes. ECR recommends having Centers twice each day. Centers can include time for intervention support.
2:50-3:00 PM – Pack Up & Dismissal
Classroom Size and Student to Teacher Ratio?
Hebrew Public Pre-K classrooms serve 18 students and are taught by a certified lead teacher supported by a Hebrew-speaking assistant teacher.
What style of curriculum will we work with?
We use the Every Child Ready (ECR) curriculum from AppleTree Institute which best supports the engagement and development of our students. ECR is an evidence-based, developmentally appropriate program designed by early learning experts that includes: 
play-based learning; 

whole and small group instruction;

the development of literacy, language, math, science, social studies, physical movement, creative arts, and social-emotional skills. 
ECR provides standards-aligned materials including thematic unit overviews, daily scripted lesson plans, visual supports, rich and diverse children's literature, and differentiation recommendations.
How is Hebrew incorporated into the school day?
Hebrew programming focuses on a child's ability to use the language in practical situations and engages them through authentic materials that make language easily understandable.  
Hebrew teachers communicate with students only in Hebrew, using gestures and visuals for students to begin building listening comprehension. 
The Hebrew teacher relies on the Total Physical Response (TPR) and Project-Based Learning (PBL) methods, which go hand in hand with the ECR curriculum, and use physical movement such as physical exercises and dance to react to verbal input and arts and crafts activities to reinforce vocabulary building. 
Approach to discipline and classroom management?
We know that Pre-K is often a child's first educational touch point and we feel strongly that it should be a joyful, engaging, safe experience. In order to ensure our students are learning in such an environment, Hebrew Public has adopted the Response Classroom approach to discipline and classroom management. 
The Responsive Classroom approach to teaching consists of a set of well-designed practices intended to create safe, joyful, and engaging classrooms and school communities. The emphasis is on helping students develop their academic, social, and emotional skills in a learning environment that is developmentally responsive to their strengths and needs.
Responsive Classroom is an evidence-based, student-centered approach to discipline and classroom management that focuses on engaging academics, positive community, effective management, and developmental awareness. With the help of Responsive Classroom, educators create safe, joyful, and engaging classrooms and school communities where students develop strong social-emotional and academic skills and every student can thrive.
What do meals and snack time look like?
Students are provided with free healthy, nutritious food for breakfast, lunch and snack. Meals are served in classrooms, with students sitting together and engaging in conversation, allowing teachers to support students with their fine motor skills, table manners, community building and language development.
How is the school day structured?
Our daily schedule is designed to include time for bathrooming, self-care, meals, snack and a nap.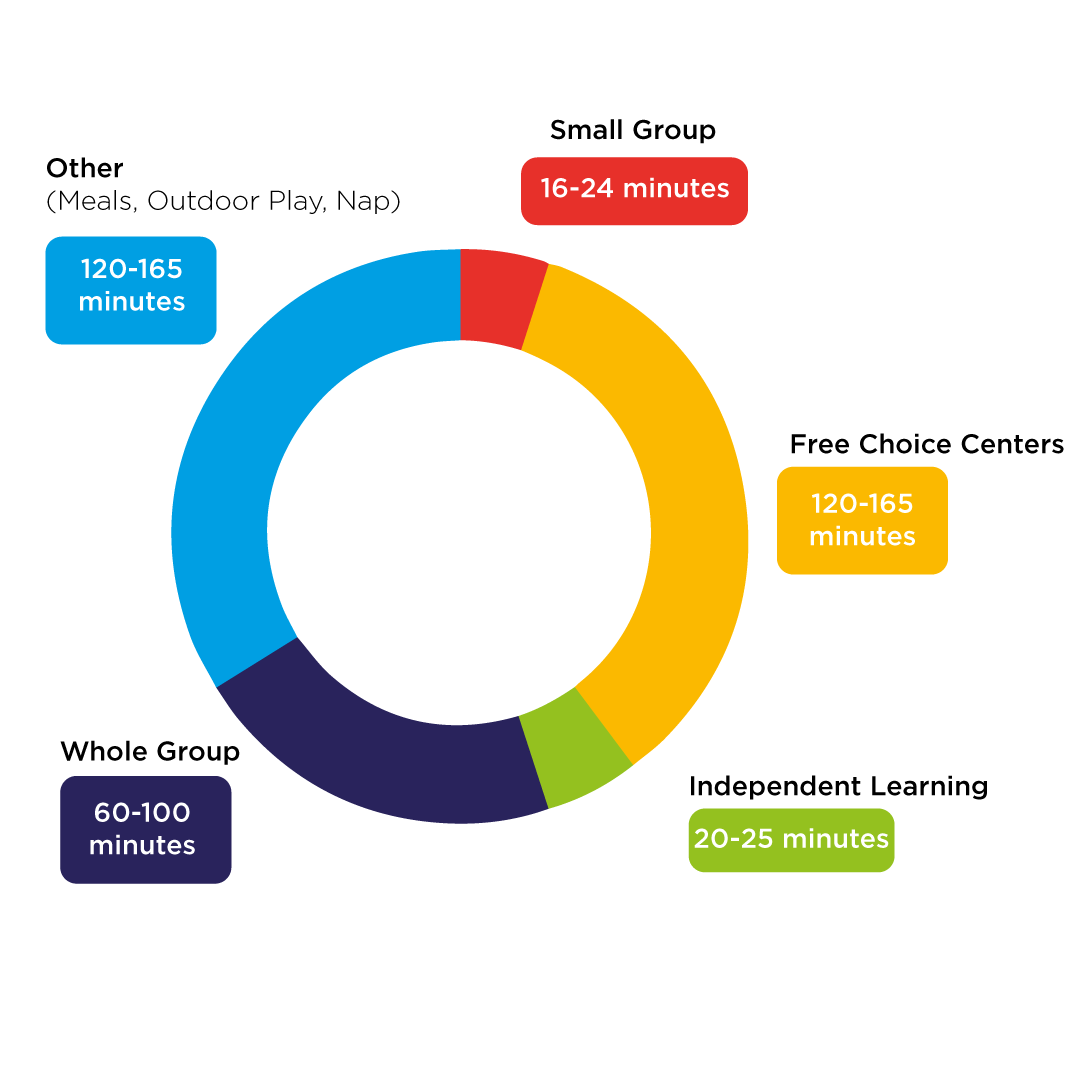 It takes just a minute! Don't wait! Space is limited.