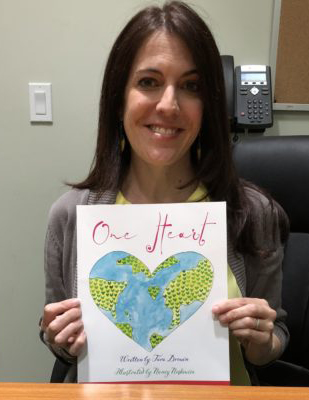 We are thrilled to announce that one of our amazing teachers is also an author! Tara Drouin from Hebrew Language Academy Charter School shared her wonderful book named "One Heart" with us. Tara has been teaching for ten years and has been a musician for twenty. Growing up in a family that played musical instruments and sang, music was embedded in her life at a young age. Tara was inspired to write the song "One Heart" that incorporates her experiences with diversity from being a teacher, a mom and musician.
Tara strongly believes that there needs to be more unity and kindness in the world – that is how "One Heart" originated. The song speaks about how we all may have our differences, whether it is a different eye color, skin color or hair color but inside, we all have one heart. Tara believes that this message needs to be shared with children at a young age.
Aside from writing such an inspiring song, Drouin has written a book that incorporates the lyrics to the song with lovely illustrations by Nancy Noskewicz  – an art teacher that Tara used to work with. A free download of the song comes with the book. Tara's students love singing the song in her classroom and plans on giving a copy of the book to her class. She expresses to them that our differences are what makes us all unique but inside we're all the same, we are all human beings with one heart and we all need to be unified. Tara says, "If you have friends, family and you're healthy, you really have it all."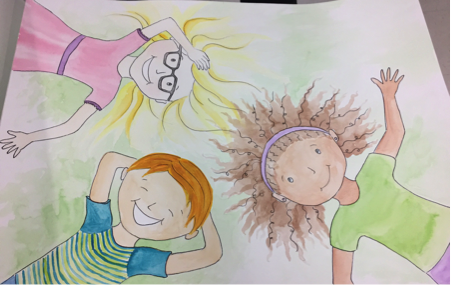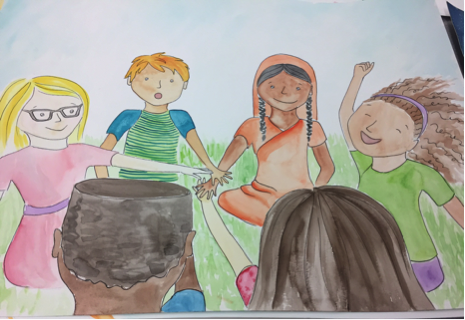 At her spare time, Tara enjoys yoga, going to the beach, making jewelry and going to the movies with her husband and daughter.
Congratulations Tara and Nancy on creating your first book and thank you so much for being a great example to our students! Tara's book is now available on Amazon, and can be purchased here.
Events:
If you'd like to see Tara perform live, she will be performing children's songs with her friend Katie at Jones Beach Band Shell and the event is free!
See details below!
July 24th, July 31st & August 11th: Jones Beach Band Shell @8pm. (Field 4)
By Elisabeth Castera
https://hebrewpublic.org/wp-content/uploads/2017/03/hebrew-public-logo-136.jpg
0
0
Elisabeth Castera
https://hebrewpublic.org/wp-content/uploads/2017/03/hebrew-public-logo-136.jpg
Elisabeth Castera
2018-06-26 00:56:23
2019-05-22 17:39:51
Our Teacher is an Author!