By Keciah Bailey
Ten years after surviving an earthquake that devastated Haiti in 2010, single mom Wildine Lafontant and son Christian found themselves facing another natural disaster – the COVID-19 global pandemic.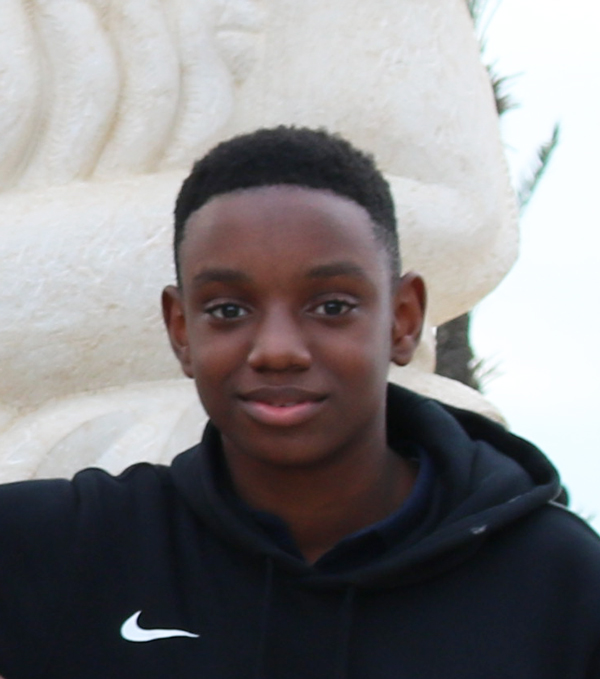 When news of the coronavirus first hit New York, both mom and son found their lives – like so many other young learners and their families –  upended in unprecedented ways. Christian, an eighth-grader at Hebrew Language Academy Charter School (HLA), had to quickly adjust to the demands of remote learning while missing the usual social interactions with his friends. As an essential worker servicing a special needs population, Wildine had to show up to her job daily even while the majority of the nation was in quarantine.
"I was scared. I was very scared when I heard of all these people dying," Wildine said. "I was really down but I didn't show Christian how I was feeling. All I could do was call my friend and pray." 
Compounding fears for herself and her son, as she commuted to work daily, Wildine also worried about exposing her elderly mother, who is battling cancer, to the virus. With a compromised immune system due to treatments, Wildine's mother is extremely vulnerable to infections. Amidst those concerns, she was also anxious about the disruption quarantining would cause to Christian's academics as he is on track to graduate middle school this year. However, she said many of her fears were tempered by the care and concern Christian received from his teachers at HLA and the commitment to his learning they showed at such an uncertain time.
"I had to put things in perspective," Wildine said. "The people I work with have no family so they need me to take care of them. I may have been leaving Christian but the teachers at HLA… they treat him like family. They call just to ask how we are doing. I have hope now."
Indeed, Wildine credits the teachers for Christian's academic success as well as his swift adjustment to remote learning. In addition to the teachers, she says the warm, disciplined environment and the quality of work at HLA were some of the reasons she chose the school for him.
HLA is a diverse dual-language Hebrew-English school located in Mill Basin, Brooklyn that serves students of all backgrounds from kindergarten through eighth grade. HLA's curriculum offers a common core aligned program that combines Hebrew language instruction with the study of Israel and a focus on global citizenship.
"At first, I was excited about having school online because it was only supposed to be two weeks," Christian said. "But then it changed to one month, and then we were told it would be for the rest of the year. I wasn't happy about that especially since I would miss being with my friends."
Jon Rosenberg, CEO of Hebrew Public, the charter management organization for HLA, said that while the school made preliminary plans for remote learning instruction, they discovered that the sudden switch from in-person classes to online learning within twenty-four hours was drastic. 
"We have learned and refined our strategies," Rosenberg said. "We are proud to have delivered live lessons to all of our students, including specials and enrichment activities at a time when anxieties were high and the city relied on schools to keep students inside and engaged."  
Despite the challenges and necessary adjustments, this year Christian will graduate as class valedictorian  – an achievement eight years in the making based on years of exceptional academic achievement, exemplary student leadership, and a strong commitment to school culture. 
"Christian and his peers, who – along with graduating seniors across the country, if not also across the globe – are having an unusual graduation this year, are leaving Hebrew Public schools with a deep appreciation for diversity, community, and global citizenship, Rosenberg said. "The pandemic has taught tremendous lessons about patience, resilience, perseverance, and determination to succeed."
In fact, perseverance and determination are character traits that define how Wildine and Christian have reached this momentous milestone.
Just two years after surviving the catastrophic earthquake that left Haiti in ruins, Wildine left for New York with her then five year old, hoping to rebuild their future. The magnitude 7.0 earthquake that hit Haiti in January 2010 left 220,000 people dead, 300,000 injured, and rubble nearly everywhere. When the earthquake started, Wildine was inside a school building where she worked as a teacher's assistant at an adult learning center. 
"I was with a co-worker when the building collapsed. He died. There was blood everywhere," Wildine recalled. "I was trapped in the room with him for hours before friends came and pulled us out. The entire time I heard a phone ringing but I couldn't even move."
Wildine's home, where Christian was staying with family at the time, was not destroyed. However, she decided soon after that it was time to join her family in the US. 
Both mother and son spoke no English when they first arrived in New York in 2012. Christian remembers walking into his first-grade class at HLA having no idea what was being said by his classmates or teachers. To help him learn English, Wildine decided to forgo speaking Creole to her young son during those first years. She remembers taking English classes at night and borrowing books from the library to help them both learn.
Not only was Christian faced with the challenge of learning English, but he was also learning Hebrew.
HLA instructs students in Modern Hebrew through a proficiency-based approach that allows them to engage in meaningful interactions in the language. Students are taught by native speakers, who only speak to them in Hebrew, enabling them to understand and speak in simple sentences in just a short time. 
"I spent the first two years at HLA putting the pieces [of both languages] together," Christian said. "By the third grade, I could have a conversation in both English and Hebrew. My French kind of slipped away though because as an eight-year-old it was hard to keep up, but I can always learn it later."
In the meanwhile, practicing Hebrew and learning about Israel prepared Christian for the experience of a lifetime.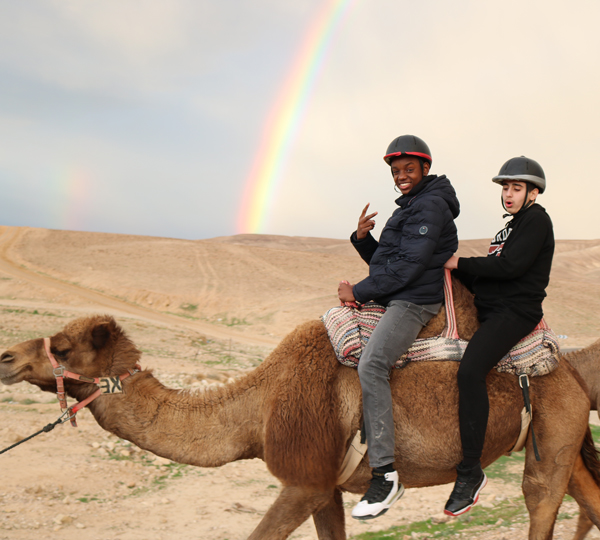 This past February – just before the world was placed on lockdown –  Christian and a group of his fellow eighth-graders at HLA embarked on a capstone trip to Israel. Every year Hebrew Public offers graduating middle school seniors across the network a chance to visit the country they have studied for years as they immerse in the culture, explore the geography, and engage with Israeli locals. 
Christian and his peers visited significant Israeli sites such as the Old City's Christian and Muslim Quarters in Jerusalem. They ate authentic Israeli food and participated in activities such as hiking the Masada, swimming in the Dead Sea, and riding camels in the Negev. 
For Christian, the most memorable part of his experience in Israel was finally meeting the pen pals he wrote to in school. Before going to Israel, the eighth-graders became pen pals with their peers at the Ein Gedi school. After hiking to the top of Masada, students finally met each other and spent time speaking with each other in Hebrew and English.
"I really enjoyed meeting my pen pals. We cracked jokes, spent time hanging out and we exchanged Instagram accounts." Christian said. 
In addition to his trip to Israel, Christian considers his entire experience at HLA rewarding and unique. 
"In 2015, I had the opportunity to go to California to represent my school and that was awesome. I think people wouldn't expect someone like me to speak Hebrew so I think it is usually kind of a surprise to them. It makes me kind of… special."
And that makes Wildine beyond proud. As New York and America prepare to re-enter some normalcy after nearly four months of quarantine, both mother and son are preparing to celebrate Christian's virtual graduation ceremony at the end of June. He will give his valedictorian speech in both English and Hebrew and when Wildine looks back at those earlier years of working hard to help Christian learn English, she considers this celebration just as much her victory as it is his.
"I was really looking forward to getting dressed up and seeing him walk the stage," Wildine said. "But I am so proud. It is his joy, but it is my joy too."
https://hebrewpublic.org/wp-content/uploads/2017/03/hebrew-public-logo-136.jpg
0
0
Jino Arielly
https://hebrewpublic.org/wp-content/uploads/2017/03/hebrew-public-logo-136.jpg
Jino Arielly
2020-07-09 19:57:41
2020-07-23 16:40:10
No earthquake or pandemic can ruin this virtual valedictorian's future