2019-20 School Year FAQ's
1. How long is the school day?
The school day begins at 7:50 am and ends at 3:30 pm.
2. What subjects will my child learn?
In addition to Modern Hebrew, students have daily classes in English Language Arts and Mathematics. Other subjects include Science, Social Studies, Music, Art, Physical Education, and Dance. Once a week, students have OLAM hour ("Olam" is the Hebrew word for "world"), in which they choose among different course offerings. OLAM electives might include subjects such as Chess, Israeli Art, Advanced Math, Playwriting, Acting, and more.

Our schools also have special lessons and activities focused on the study of Israel, including a celebratory Israel Day held every year. 
3. What else is part of the school day?
Every day starts with a Morning Meeting and ends with a Closing Circle. There is also time for lunch and recess, as well as pack-up time before the school day ends. In grades 5-8, there is also a daily Advisory Meeting.
4. What are the school's goals for my child?
We will help your child become a strong reader and writer, learn to do mathematics at a high level, speak another language, and master important concepts in science and social studies, music, and art.    
We will support your child in developing social and emotional skills. These skills will help them form friendships, work in teams, and understand their own feelings and emotions and those of others. 
As part of our special global citizenship mission, we also help students become global citizens who learn important values. OLAM is the Hebrew word for "world", and we use it as an acronym to describe these values, which include

Outstanding Problem-Solvers

Lifelong Learners

Aware Communicators

Making a Difference
 We believe that children who develop these values will be able to succeed in high school, college, the workplace, and their communities, while making the world a better place!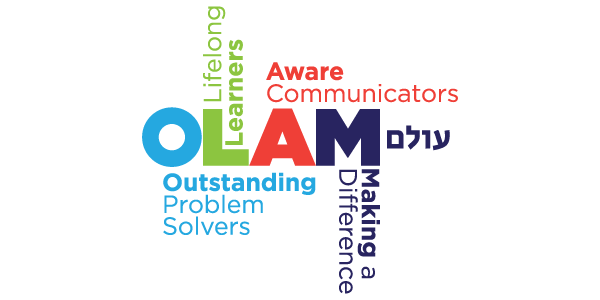 5. How is this school different from other public schools?
A. Our school is a free public school. Students can apply to enroll here from anywhere in New York City.  Priority in admission is given first to children who have a sibling in the school, and second to children who live in the community school district in which the school is located.
B. Our school is part of the Hebrew Public network of schools. Hebrew Public is a nonprofit organization whose mission is to lead a national movement of exceptional, diverse public charter schools that teach Modern Hebrew to children of all backgrounds and prepare them to be successful global citizens.
C. We work hard to recruit and support a diverse mix of children and families so that students can form friendships and learn together even though they come from many different backgrounds.
D. All the students in our school learn Modern Hebrew, a challenging language that not only uses a different alphabet, but that is read from right to left.  Modern Hebrew is a new language that is based on an ancient one. In our school, Modern Hebrew is taught by native speakers of the language, who work with children in small groups.  In addition to learning Modern Hebrew, students learn about Israel and its people.
6. What does the school do for children who are ready to learn at an advanced level?
We support our teachers so they can give each child assignments that are tailored for students' individual needs. This is called Classroom-based Differentiation.
In English, students are matched with books and reading materials that are at their reading level. For example, if a 3rd grader is reading at a 5th-grade level, they would be placed in a reading group with other students working at that same level.
Our Math program, Eureka, provides advanced activities for students who are ready for more challenging concepts and problems.  In some cases, if the school's schedule allows it, a student may take math class with students in a higher grade. Older students who are performing at an advanced level can take Algebra in 8th grade, and can take the Algebra Regents Exam at the end of 8th grade. Advanced math is also available for 7th grade students.
Hebrew instruction is conducted in small groups based on student needs, with advanced groups at each grade level.
During OLAM Hour, some of the offerings will be designed to meet the needs of advanced learners. As an example, students ready for more advanced mathematics may sign up for an OLAM elective specially designed for students with advanced skills.
7. My child has or might have special needs (a disability). What special education services does the school provide?
Our school provides students with a model of co-teaching called "ICT," in which a special education teacher and a general education teacher work together in a classroom. 
Special Education Teacher Support Services (SETSS) is another program that we provide in which a special education teacher works with a small group of students for a limited number of hours each week. This level of support is less intensive than the ICT program since a student is instructed by a special education teacher for a small portion of their week as opposed to in all of their core subjects. We also offer "related services" to students who qualify for them. These services include Occupational Therapy, Physical Therapy, Speech & Language Therapy, and Counseling.
Please note that we do NOT provide self-contained classes that consist only of students with special needs.  If your child has an IEP (Individualized Education Plan) that calls for a self-contained class (such as "12-1-1" or 6:1:1" setting), please understand that we do not provide those settings.  We would be happy to work with you and with the school district's Committee on Special Education to determine if another combination of services and supports could work for your child at our school.
8. What services does the school offer for children who are having difficulty with learning?
Students who are having difficulty learning receive support in a variety of ways. The first level of support begins with the classroom teacher. Through careful observation, instruction and assessment, teachers identify learning gaps and strengths for all students. 
Based on students' academic levels, teachers provide one-on-one and small group support to meet kids' needs. For example, students in early grades who need additional time to master reading skills meet regularly with teachers in small groups for reading and phonics instruction. Similarly, small math groups are formed to ensure students master skills they need to succeed with grade-level content.
If students require additional support, specialists from outside the classroom can assist. A specialist would work with the teacher to meet your child's needs by providing academic materials and lessons tailored to your child's current academic level. These targeted plans would be monitored and adjusted as needed. The school also uses a variety of technology programs that support math and reading learning, and these programs would be used in tandem with teacher-led instruction. 
9. What services does the school offer for children who are having behavioral difficulties?
A strong relationship between students and staff is the foundation of academic success. For students who may have behaviors which prevent consistent academic engagement, we support them in a variety of ways, including:
Check-In Check-Out: Daily mentoring and goal setting.

Small-Group Intervention: Age-appropriate small groups for students who may be experiencing similar struggles in and out of the classroom.

1:1 Intervention: With a school social worker, mentor teacher, or member of the administrative staff.

Behavior Plans: An individualized agreement which may identify incentives, goals, and is created collaboratively between families and staff.

Wraparound Services: Partnerships with outside agencies and/or providers who give additional support to families and students in collaboration with the school.
10. How can I help my child succeed in school?
Please ensure that your child completes their homework every night and has a quiet place to study.  Stay in touch with your child's teachers, review our weekly newsletters and ask your child what they are learning.
Read to your child every night if you can, and once they learn to read — make sure they are reading every day too!
Make clear to your child the importance of proper behavior on the bus (if they take the bus to school) and in school.  This means following instructions from adults and following school rules.
Most importantly, encourage your child to work hard and to be a good friend to other students.
11. My child attended this school during 2018-19. What will be different this coming year?
All lower grade students will have choice time periods that will engage them in play-based learning activities.

In grades K-2 we are returning to Teachers College Reading & Writing approach to literacy. Students will read a lot, write and discuss their thoughts about reading materials with peers. In grades 3-8 we are implementing

Expeditionary Learning approach to ELA

. The Education Language Arts curriculum is a comprehensive core literacy program that engages teachers and students through compelling, real-world content.

We are implementing Responsive Classroom approach that integrates academic and social and emotional learning.

Israel Studies will be implemented during Hebrew classes and specials regularly. Israel will be celebrated through school events, special workshops, and guest speakers.

OLAM Hour will include enrichment and will offer an array of class choices for students. For example, students can choose to take electives in robotics and in the geography of Israel.

We will not be moving forward this year with our candidacy for the International Baccalaureate Middle Years Programme.  We have incorporated many elements of the IB Learner Profile into our new OLAM values.  We will be using the IB's approach to interdisciplinary work in some of our OLAM Hour offerings and in our approach to Israel and Harlem Studies (in Harlem Hebrew Language Academy only).

Chess will be offered as an OLAM Hour elective and/or as an after-school activity.  
12. When can I find out more about our program?
Later this summer, you will receive an updated Family Handbook that contains more information.
In the meantime, you can view our school calendar here.