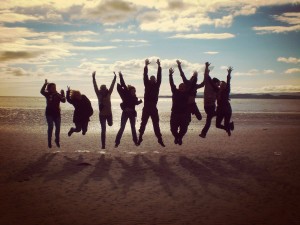 If you are involved with Hebrew Public schools, you are surely already an advocate for multilingualism and guiding our society's children toward a life of global citizenship. Personally, I've found that speaking more than one language and traveling far from home have had a profound influence on my life. There's nothing else that does such a great job of challenging us to stop, step out of our skin, and view our world with new eyes.
Over the past decade of young adult life, I've become fully bilingual in Spanish and English and have lived in a variety of places – the USA, Argentina, Uganda, Northern Ireland, and Spain. The benefits that come along with travel and speaking another language are endless. Whether humorous, stressful or life-changing, these experiences are essentially about navigating through the unfamiliar.  Here are a few personal examples I can recall:
An unfamiliar street in Belfast led me to the Peace Walls, barbed wire towering overhead, telling stories of the past – no history book could ever teach the Northern Irish Troubles like those walls.
An unfamiliar custom in Uganda caused me to question my notions of generosity and hospitality as a family insisted on giving me one of their last chickens. I was reluctant but followed the advice of my fellow Ugandan friends that "You never reject a gift given out of love" – no sociology class could ever convey the nuances of culture like the generous family that day.
An unfamiliar woman, sitting before me in a Ugandan displacement camp, asked me if I could take her back to the United States with me – no documentary could produce such a profound sense of guilt and realization of my own privilege as that woman's longing eyes.
An unfamiliar lunch time (comida) in Spain forced me to stop for three hours daily, during what for an American is the "most productive time of day." These hours instead allowed food, rest, and loved ones to be etched into the daily schedule – no travelogue or Tedtalk could ever cause me to reassess life priorities like those three hours.
It's unfamiliar moments like these that give us the opportunity to stop relying on our everyday assumptions about ourselves, others, and the way the world functions. They make us more aware, they teach us to be more empathetic, and they keep us enthralled with the diversity of people and places on this earth.  In this sense, Hebrew Public schools are fostering these qualities by teaching students to be bilingual, global citizens and full of wonder for the world.
Katie Scranton, Research Assistant
Photo:  Donegal, Ireland, 2014.  Katie with friends from volunteers program Tools for Solidarity.
https://hebrewpublic.org/wp-content/uploads/2016/05/10359022_10203555414237743_7510891883165499726_o-300x225.jpg
225
300
angela valle
https://hebrewpublic.org/wp-content/uploads/2017/03/hebrew-public-logo-136.jpg
angela valle
2016-03-21 19:14:09
2017-08-29 15:44:43
UNFAMILIAR MOMENTS MAKE US MORE AWARE